Collaborative Care in Cancer Treatment
Printer-friendly version
Over 1.7 million people are diagnosed with cancer each year, and about 7 million people currently live with a cancer diagnosis in the United States. Studies show that over one in three men and women will be diagnosed with cancer in their lifetime. While these numbers are startling, advancements in treatment now help cancer patients live longer, with over two-thirds of diagnosed patients surviving 5 years or more. There is an increasing push toward not just maintaining a patient's life, but their quality of life. Clinics are striving to optimize the emotional well-being of a patient as well as their physical health, and they can do so by integrating psychosocial care into oncology care.
A growing number of randomized, controlled trials have shown the adaptability of Collaborative Care (CoCM) to cancer treatment settings. A recent meta-analysis of published studies in diverse oncology patient populations and settings showed that CoCM is effective in meeting the psychosocial health needs of cancer patients, including low-income and racial and ethnic minority patients, and is cost-effective. The model has been shown to have many advantages over usual care for improving psychosocial health outcomes and quality of life. Furthermore, studies of CoCM show heightened adherence to cancer treatment and longer-term benefits compared to studies of medications or psychotherapy alone.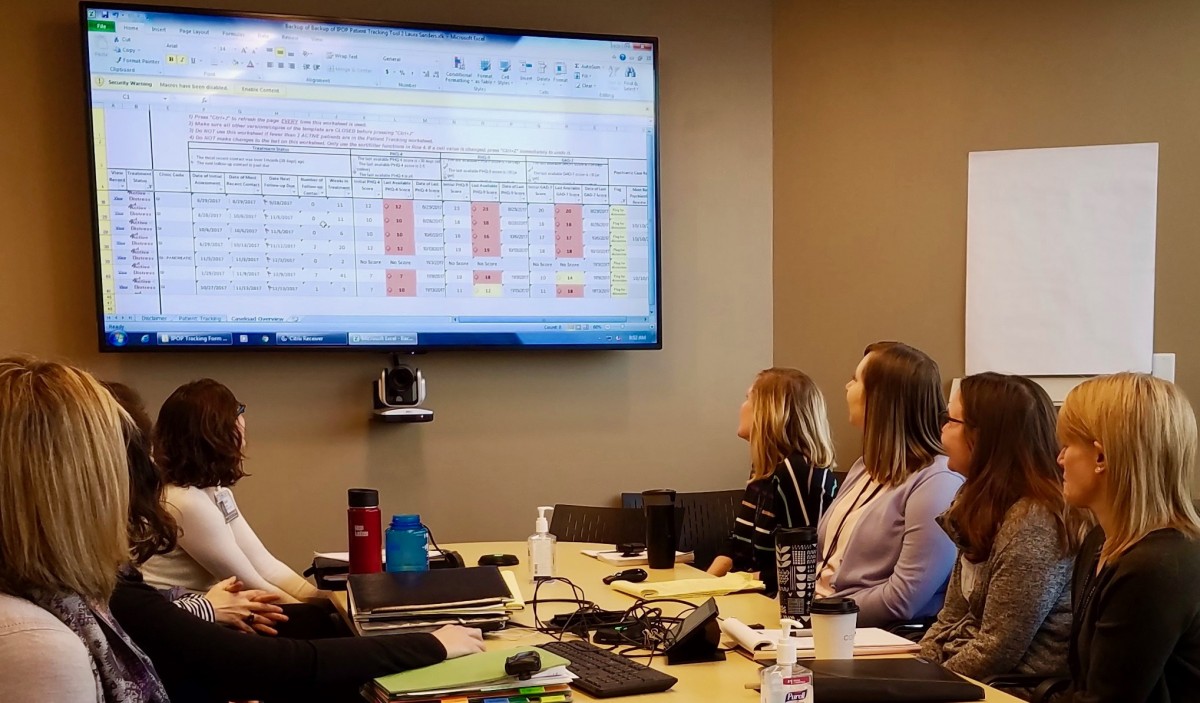 Technology continues to enhance healthcare access, and this includes extending psychosocial care to cancer patients. Evidence shows that CoCM utilizing telehealth and remote care teams is effective for cancer patients, overcoming the barriers presented by shortages in psychosocial oncology specialists. CoCM's flexibility makes it sustainable and adaptable, highly important traits for diverse cancer care settings.
---
Read more about our ongoing research project: Using technology to optimize Collaborative Care management of depression in rural and urban cancer centers
---
Collaborative Care's focus on patient-centered and population-based care is consistent with today's health care environment. It provides centralized psychosocial care, increasing convenience for cancer patients and their families. A care manager, supervised by a psychiatrist with expertise in treating cancer patients, is located within the oncology clinic and works closely with oncology, primary care, and other supportive care providers to create a cohesive team that can deliver comprehensive, holistic care. Clinical Social workers, nurses, or psychologists can fill the role of the care manager, adding to the model's flexibility. Collaborative Care uses evidence-based pharmacological and behavioral strategies and validated treatment response outcomes, complementing the multidisciplinary, measurement-based nature of oncology care.
Using Collaborative Care in cancer treatment has proved effective in real world settings as well as in research trials. The Seattle Cancer Care Alliance (SCCA) was one of the first cancer care centers in the country to integrate psychosocial care into routine cancer care using CoCM. SCCA has since helped many other cancer centers implement the model. Led by faculty and staff from the UW Department of Psychiatry and Behavioral Sciences and SCCA, the Integrated Psychosocial Oncology Care program has successfully used Collaborative Care to improve patient outcomes, patient and provider satisfaction, and offer the most holistic and compassionate care possible.
References
Fann JR, Ell K, Sharpe M. Integrating psychosocial care into cancer services. Journal of Clinical Oncology. 30:1178-1186, 2012.
Fann JR, Ruark J, Sharpe M. Delivering Integrated Psychosocial Oncology Care: The Collaborative Care Model. Psycho-Oncology (4th ed.). 2021. Breitbart W, Butow P, Jacobsen PB, Lam W, Lazenby M, Loscalzo M (eds), Oxford University Press, NY.
Fann JR, Fan MY, Unutzer J. Improving primary care for older adults with cancer and depression. J Gen Intern Med. 2009; 24 Suppl 2:S417–24. PubMed.
Strong V, Waters R, Hibberd C, Murray G, Wall L, Walker J, et al. Management of depression for people with cancer (SMaRT oncology 1): a randomised trial. Lancet. 2008; 372(9632): 40–8. PubMed.
Ell K, Xie B, Quon B, Quinn DI, Dwight-Johnson M, Lee PJ. Randomized controlled trial of collaborative care management of depression among low-income patients with cancer. J Clin Oncol. 2008;26(27):4488–96. PubMed.
Sharpe M, Walker J, Holm Hansen C, Martin P, Symeonides S, Gourley C, et al. Integrated collaborative care for comorbid major depression in patients with cancer (SMaRT Oncology-2): a multicentre randomised controlled effectiveness trial. Lancet. 2014;384(9948):1099–108. PubMed.
Walker J, Hansen CH, Martin P, Symeonides S, Gourley C, Wall L, et al. Integrated collaborative care for major depression comorbid with a poor prognosis cancer (SMaRT Oncology-3): a multicentre randomised controlled trial in patients with lung cancer. Lancet Oncol. ;2014;15(10):1168–76. PubMed.
Kroenke K, Theobald D, Wu J, Norton K, Morrison G, Carpenter J, et al. Effect of telecare management on pain and depression in patients with cancer: a randomized trial. JAMA. 2010;304(2):163–71. PubMed.
Duarte A, Walker J, Walker S, Richardson G, Holm Hansen C, Martin P, Murray G, Sculpher M, Sharpe M. Cost-effectiveness of integrated collaborative care for comorbid major depression in patients with cancer. J Psychosom Res. 2015; Dec;79(6):465-70.
Ell K, Xie B, Kapetanovic S, Quinn DI, Lee PJ, Wells A, Chou CP. One-year follow-up of collaborative depression care for low-income, predominantly Hispanic patients with cancer. Psychiatr Serv. 2011 Feb;62(2):162-70.
Irwin KE, Park ER, Fields LE, Corveleyn AE, Greer JA, Perez GK, Callaway CA, Jacobs JM, Nierenberg AA, Temel JS, Ryan DP, Pirl WF. Bridge: Person-Centered Collaborative Care for Patients with Serious Mental Illness and Cancer. Oncologist. 2019 Jul;24(7):901-910. 
Steel JL, Geller DA, Kim KH, Butterfield LH, Spring M, Grady J, Sun W, Marsh W, Antoni M, Dew MA, Helgeson V, Schulz R, Tsung A. Web-based collaborative care intervention to manage cancer-related symptoms in the palliative care setting. Cancer. 2016 Apr 15;122(8):1270-82.
Cheville AL, Moynihan T, Herrin J, Loprinzi C, Kroenke K. Effect of Collaborative Telerehabilitation on Functional Impairment and Pain Among Patients With Advanced-Stage Cancer: A Randomized Clinical Trial. JAMA Oncol. 2019;5(5):644-52. 
Courtnage T, Bates NE, Armstrong AA, Seitz MK, Weitzman TS, Fann JR. Enhancing integrated psychosocial oncology through leveraging the oncology social worker's role in collaborative care. Psycho-Oncology. 2020 Dec;29(12):2084-2090.
Pirl WF, Greer JA, Gregorio SW, Deshields T, Irwin S, Fasciano K, Wiener L, Courtnage T, Padgett LS, Fann JR. Framework for planning the delivery of psychosocial oncology services: An American psychosocial oncology society task force report. Psycho-Oncology. 2020 Dec;29(12):1982-1987.
Li M, Kennedy EB, Byrne N, Gérin-Lajoie C, Katz MR, Keshavarz H, Sellick S, Green E. Systematic review and meta-analysis of collaborative care interventions for depression in patients with cancer. Psycho-Oncology. 2017 May;26(5):573-587.